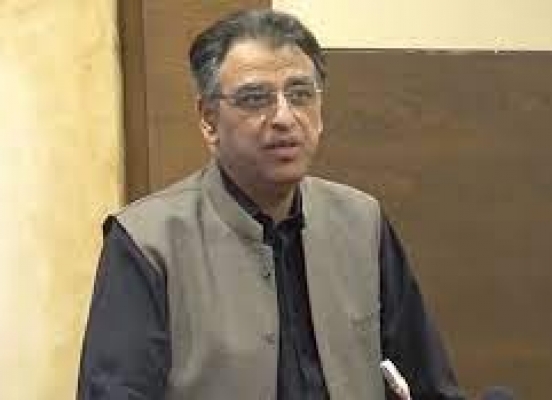 The minister says party collected funds in the most transparent manner
PTI to extend full cooperation to ECP in foreign funding case, says Asad Umar
Planning Minister Asad Umar on Tuesday assured the Election Commission of Pakistan (ECP) that the Pakistan Tehreek-e-Insaf (PTI) will provide full cooperation in the foreign funding case against it.
Flanked by Minister of State for Information and Broadcasting Farrukh Habib outside the ECP in Islamabad today, Umar said that the PTI collected funds in the most transparent manner and the nation has full confidence in the leadership of Prime Minister Imran Khan.
The federal ministers addressed the media at the commission's office following their appearance in the foreign funding case.
"Major blames were also made in the past by big leaders," the planning minister said. "[Slain former premier] Benazir Bhutto made allegations that Nawaz Sharif had party funding from Osama bin Laden," he added.
Asad said that the PTI had filed a petition with the ECP to summon the reports from the three scrutiny committees. "I have no doubt that when [the] ECP makes the party funding report public, the masses will see that it was Prime Minister Imran Khan who collected the funds in the most transparent manner and that is why people trust him," he said.
The minister further added that the secret accounts of the Pakistan Muslim League-Nawaz (PML-N) and the Pakistan Peoples Party (PPP) were coming to the surface. He was referring to the declaration made by Habib a day earlier.
Farrukh Habib on Monday said the perusal of PML-N's financial documents had revealed that nine accounts were hidden by the party from the national election watchdog.
Speaking on the occasion today, Habib said that the scrutiny committees should immediately submit their reports regarding the PML-N and PPP to the commission.
"Facts should come forth as to why nine party accounts of the PML-N and 11 accounts of the PPP were kept secret," the state minister said, adding that these facts should not be concealed.
The minister's statements came after a damning report released by the ECP, available with The Express Tribune, revealed that PML-N had concealed income and its sources by not providing bank statements of seven accounts while a total of nine accounts were used by the party from 2013 to 2015.
The bank accounts were revealed during the scrutiny process which were previously not disclosed to the polls supervisory body or in the audited accounts.
The report disclosed that no records of the five bank accounts, which the PML-N maintained for provincial chapters of Punjab, Khyber-Pakhtunkhwa and Sindh, were revealed to the ECP.