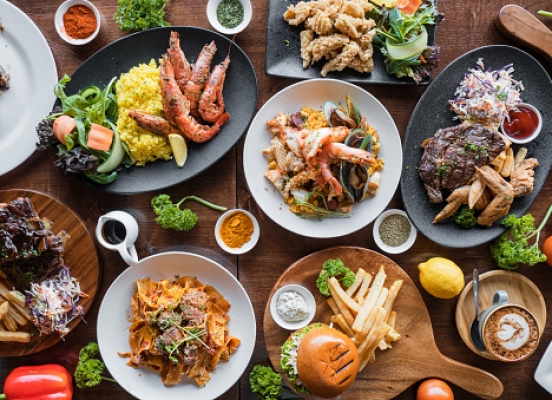 Fast food, BBQ and Pan Asian: Best Iftar deals in Karachi
The holy month of Ramazan has started and that marks the onset of the numerous iftar party invites. A fan favourite that almost all restaurants adapt to during this month are the exclusive Ramazan buffets and iftar special deals that allow one to devour a huge variety of things – all together at a lesser price – after a long day of fasting.
Let's be honest, while we focus on our spiritual healing, who can say no to an all you can eat BBQ evening?

Gather friends, family and your appetite, we've compiled a list of cuisines to try at a steal price. From BBQ to Mexican and Pan Asian and fast foods, we've got it all sorted for you to choose and pick from. The deals include all you can eat buffets, some sharing platter deals and buy one get one free combo— bookmark this list, and you're set for all iftars or sehris you intend to splurge on outside.

Kebabs, handis and all things desi

1. Saltanat restaurant
What an experience it would be to open your fast in the open air with over 60 dishes ranging from Kabuli pulaos to malai tikkas, sitting amongst the smell of fresh air mixed with a tinge of sizzling BBQ aroma. Saltanat Restaurant has opened its doors for a unique outdoor iftar buffet experience with a per head of 2399 + 13% tax for adults and 1299 + 13% tax for kids under 10. Children under four are free!

2. Lal Qila
Lal Qila has been a staple choice for people over the years for a royal buffet experience. It offers two deals during Ramazan; the first half caters to iftar and a dinner that lasts from iftar till 8:30 pm. The second half consists of only dinner, which means you skip on all the shahi dahi bhallay and pakoras, and skip to the infinity course dinner meal starting from 9 pm and till 11 pm.

It charges Rs2290 for adults and Rs1150 for kids for the first half. The charges for the second half is Rs1590 per adult and only Rs790 for children. All prices are inclusive of taxes!

3. Angeethi
Located at Tipu Sultan road and at Khayabane Shahbaz, DHA, Angeethi asks you to "eat till your heart desires." A new BBQ favourite, the buffet deal has salads, a wide variety of main courses, drinks and desserts– all covered with a fine dining experience.

Spice, woks and all things Pan Asian

1. Chop Chop Wok
Chop Chop Wok has an iftar deal that consists of a choice in appetiser, their infamous 3-step wok or a wok special, a fruit bowl, mint lemonade and ice cream — all at a steal price of just Rs1460 per person.

2. Firefly Asian
A splendid menu of all things rice, noodles and spice, this one is a winner if you're looking for an authentic Pan Asian experience for Iftar. Firefly Asian's iftar buffet charges adults at Rs2100 per head and kids between four to seven years at Rs1300. These prices are exclusive of taxes.

Burgers, pastas, wraps and more!

1. Oh My Grill
Oh My Grill, known best for its gourmet burgers, have their wraps in a deal for Ramazan. Six wraps, Korean chicken shots, chilli bites and fries, all for just Rs. 1799. They also have a chicken sliders box for the same price. 
2. The Verge
With the most unique menu to offer, The Verge, a new eatery, has opened its door for a special evening for you. "Start with the mighty platter and a beverage, choose your main, and finish it off with our house special dessert; Elijah's mess. All for just 1950+tax! We've got you covered with everything you need, from Kale Pakoras to Lobster Croquettes to our infamous calamari and much more. Oh! And don't forget the guava milk soda," read their Instagram post.

3. Jardin
Jardin, with its rather large menu with loads of options to choose from while dining and a cosy ambient restaurant are all you need for a date night during Ramazan. Different kinds of salads, a long list of appetisers, a bunch of main courses including pasta, steak, pizza AND dessert choices — what more could one want?